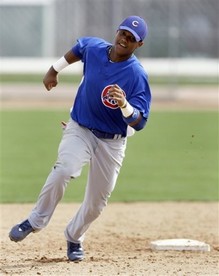 Another team would have waited three weeks. That's about when a club can call up a top prospect without any service time and not have to worry about him becoming super-two eligible after his second full year in the majors.
The Cubs, though, had reasons not to procrastinate. Sure, those three weeks may seem like a small time to have waited if Castro ends up costing them an extra $10 million-$15 million over four years of arbitration eligibility. But there's a slight chance it'll mean the difference between reaching the postseason in 2010 and staying home in October.
Besides, Castro, for all of his positives, isn't Tim Lincecum or Matt Wieters or Jason Heyward. He's certainly not going to have any 30-homer seasons in his mid-20s. If he hits more than 15 homers in 2012, it'd be an upset. He should hit for average and steal some bases, but he's not the kind of player the arbitration process tends to reward most handsomely. Odds are that it will be several years before he makes a real dent in the Cubs' lofty budget.
So the money isn't that big of a deal. And Castro may well be able to help out right away. When he's just 20 — and he just hit that number on March 24 — he was off to a .376/.421/.569 start at Double-A Tennessee. He makes a ton of contact and is adept at fighting off breaking balls, so he doesn't strike out very often. He also doesn't walk much, but he seems to be improving there. Dating back to last year, he's walked 19 times in 220 at-bats in Double-A, matching his total in 358 at-bats from high-A ball.
Castro is a poor basestealer for someone with above average speed, but that will change with coaching. On defense, he's occasionally spectacular and he should be a modest improvement on Ryan Theriot. As he continues to fill out, he may face a move to second base someday. His range isn't an issue yet, though.
The Cubs can plug Castro into the eighth spot in the lineup and see what happens. If he struggles, then they'll still have Mike Fontenot as a fallback. Castro is so young that an early major league failure would hardly dim his prospects. The Cubs have hurt themselves by rushing prospects in the past, and I still think they're making a mistake with Tyler Colvin, even though he's provided ample production in his limited action.
Castro, though, doesn't have the kind of game that's going to fall apart just because he's facing pitchers capable of painting the black and throwing breaking balls in any count. He's not going to challenge Jason Heyward for Rookie of the Year honors, but he could hit .280/.340/.400 and be an asset as an everyday player the rest of the way.