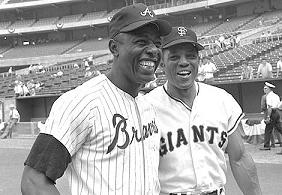 Anyone who knows a bit about Willie Mays and Hank Aaron knows that they are totally different, temperamentally-speaking.  Mays is city, Aaron country. Mays has always been a larger than life personality, Aaron a still-waters-run-deep kind of guy.  It extended to their playing styles and, though time and age have softened the distinctions between them in the eyes of the public, still persists to this day.
But until Howard Bryant's soon-to-be-published Hank Aaron book was written — and excerpted by Allen Barra in the Village Voice — we had no idea just how acrimonious their relationship really was, and likely still is:
Bryant cites a first-hand account from 1957, a United Press/Movietone
News reporter named Reese Schoenfeld, that Mays ragged on Aaron from the
sidelines while Henry was being interviewed in front of a TV camera:
"How much they paying you, Hank? They ain't payin' you at all, Hank?
Don't you know we all get paid for this? You ruin it for the rest of us,
Hank! You just fall off the turnip truck?"

While Aaron became more and more agitated, Mays laid it on thick: "You
showin' 'em how you swing? We get paid three to four hundred dollars for
this. You one dumb ni—-!"

According to Bryant, "Henry's reaction for the next fifty years — to
diffuse, while not forgetting, the original offense — would be
consistent with the shrewd but stern way Henry Aaron dealt with
uncomfortable issues. The world did not need to know Henry's feelings
towards Mays, but Henry was not fooled by his adversary. Mays committed
one of the great offenses against a person as proud as Henry: he
insulted him, embarrassed him in front of other people, and did not
treat him with respect."
And it wasn't just that incident. According to Bryant, Mays was frequently dismissive of Aaron and his accomplishments, was obviously resentful that it was Hank — and not Mays — who beat the Babe, and since then has acted as though the two of them were close when, in fact, nothing could be further from the truth.
Mays is often referred to as the best all-around baseball player in baseball history.  He may be.  But if what Bryant says is true about the manner in which he treated Aaron (and presumably everyone else he considered a rival for the spotlight) he is also one of baseball's biggest all-around jerks.
Bryant's Aaron book will be released next week. Sounds like one I'm definitely going to want to read.