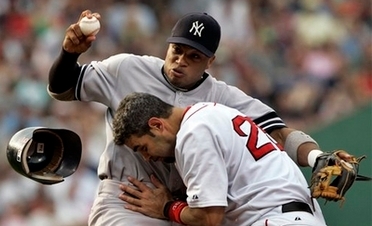 Rob Neyer has kicked off what will be a 30-part series in which he attempts to divide the histories of every major league franchise into distinct
eras, with each era connected to a single player.  He starts today with the most obvious ones: the Yankees and the Red Sox.
But how obvious are they really? For example, can any of you, without looking, define the Snuffy Stirnweiss era for the Yankees? And when was the Carl Yastrzemski era? Trick question! There wasn't one.  It went straight from Dick Radatz to Reggie Smith to Carlton Fisk to Wade Boggs. But before you get flustered about that, go read, because, at least in my opinion, this kind of historically assessment is what Neyer does best.
My only quibble: that Joe Pepitone didn't get the 1965-69 era for the Yankees. Because I can't think of the post-dynasty Yankees without thinking of Joe Pepitone.