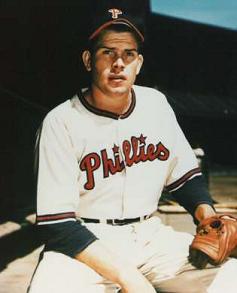 Phillies great Robin Roberts has died. He was 83 years-old. No word on the cause of death, but judging by the surprise in the blogosphere and Twittervese it was not necessarily expected.
Roberts led the NL in wins for four straight years in the 1950s, winning 28 games in 1952 and 23 each of the next three years.  His win totals are remarkable give that, aside from the Whiz Kids year of 1950, the Phillies were never anything special. They won 83 games once, but otherwise dwelled in fourth and fifth place during Roberts' prime.
Roberts was the ultimate workhorse, even for the era in which he played, pitching over 300 innings each year between 1950 and 1955, and 297 in 1956. There was no Cy Young award during his best stretch of years, but he almost certainly would have won it multiple times had there been one.
I obviously never got a chance to see Roberts pitch, but he is one of my historical favorites. I used to look at his entry in the Baseball Encyclopedia, marveling at his win totals and innings pitched, wondering how it was possible for a mere mortal to do such a thing.  The truth may be that all of those innings took their toll on Roberts — he swooned badly in mid career, rebounding only once he left Philly and went to Baltimore, where he was treated with a bit more care — but that doesn't take away from his obvious greatness.
Universally described as a class act by all who knew him, Roberts will no doubt be missed.