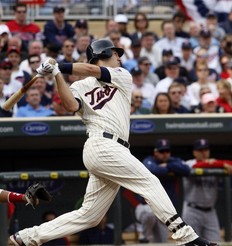 Twins catcher Joe Mauer took batting practice with the rest of his teammates Thursday at Target Field, according to the Associated Press, but is still not in the starting lineup due to a tissue bruise in his left heel.
Wilson Ramos, batting .438 since his May 2 call-up, will continue to fill in at catcher for the Twins until Mauer is fully comfortable with spending nine innings in a crouched position. 
Minnesota manager Ron Gardenhire isn't revealing a whole lot of information, but it would seem sensible for Mauer to be eased back into the starting lineup at DH.  Ramos is hitting well enough to deserve an extended look in the big leagues and not having to crouch should help the long-term health of Mauer's left heel.
The Twins are 19-9 this season and have won four straight games in Mauer's absence.  Good teams will do that.  The superstar catcher was batting .345/.406/.500 with 10 extra-base hits before the injury.