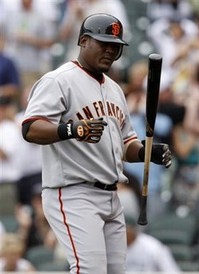 Giants manager Bruce Bochy said Thursday that Juan Uribe will stay in the lineup as an everyday player after Freddy Sanchez returns from shoulder surgery, something that could happen in about two weeks.
Bochy didn't say Uribe would own second base for himself, but that's really the only place for him. Moving Pablo Sandoval to first and using Uribe at third is an option, but it certainly wouldn't make any sense when Huff is off to a .280/.370/.484 start a month into the season. Besides, Sandoval has been plenty solid defensively at the hot corner after shedding some weight over the winter.
Uribe at short over Edgar Renteria is also unlikely to happen with any regularity. Renteria has a 773 OPS that's comparable to Uribe's 781 mark this season, and he's the more capable defender. Uribe has lost a lot of range through the years and can't be viewed as a regular shortstop these days.
So, it will probably come down to Uribe versus Sanchez most days, and it looks like Bochy prefers the guy who signed for $3.25 million in January to the one who got a two-year, $12 million deal in October. It's defensible. Uribe came in with an 824 OPS in 398 at-bats last year, while Sanchez finished at 742 in 457 at-bats. Defensively, the two are close to a wash.
It just makes one wonder why the Giants saw the need to re-sign Sanchez. But it's typical of Brian Sabean to spread the wealth. He could have used the money he spent on Sanchez, Mark DeRosa and Bengie Molina to make a run at Matt Holliday, yet that's simply not his style.