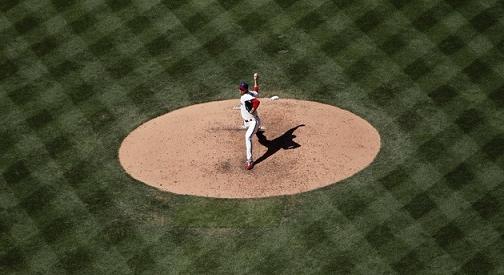 Roy Halladay is now 6-1 after stifling the Cardinals over seven innings in the Phillies 7-2 win. He worked out of early trouble and struck out nine while scattering — yes, scattering! — eight hits.
Best moment of the game. Seventh inning, Roy Halladay already has thrown 117 pitches and has just given up an RBI single to Pujols.  Charlie Manuel comes out to the mound to take the ball.  Except he doesn't. We'll learn later what Halladay actually said, but he effectively told Manuel that he wasn't leaving the game.  Matt Holliday grounds out on the very next pitch and Halladay leaves the field to the roar of the crowd. Robin Roberts tribute anyone?
By the way, the above photo was taken this afternoon by Matt Slocum of the Associated Press.  It's one of my favorite game shots of the year so far. It pretty much captures the "I'm gonna handle this myself" essence of Halladay.