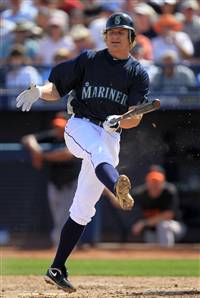 After going 3-for-32 and earning his release from the Seattle Mariners, it didn't take long for Eric Byrnes to land on his feet.
The 34-year-old outfielder, who once stole 50 bases for the Arizona Diamondbacks (a feat the D-backs are still paying for), has earned a roster spot with a rec league softball team sponsored by Dutch Goose, a burger and beer pub in Menlo Park, Calif.
If you think this post is an audition for The Onion, you'd be mistaken. Here is Byrnes talking to Steve Gilbert of MLB.com:
"This is going to be a blast," he said. "Playing with my buddies. I can't wait for my first hit. I'm going to ask for the ball."

That's because there haven't been enough hits for Byrnes the past three seasons.
Gilbert beat me to the punch line, but that's OK as the Mariners should provide plenty more opportunities this season. As far as Byrnes goes, he's provided enough already.
In addition to his poor hitting, Byrnes drew attention when he pulled back his bat on a suicide squeeze bunt, leaving Ichiro hung out to dry, then ducked the media by exiting the clubhouse on – of all things – a bicycle.
(I swear this isn't an Onion story)
Byrnes says he expects that his MLB career is finished, and if so he'll spend more time with his family (don't they all say that?) and working on a clothing business that he founded with his wife. Also don't be surprised to see him focus on a broadcasting career.
"I've always had two passions in my life," Byrnes said. "One of them was playing sports and the other was talking about sports."
Maybe Byrnes is an odd guy. Maybe he's a free spirit. Maybe he's just a "dude."
Either way, his softball team should be pretty good this year.
Are you on Twitter? You can follow Bob here, and get all your HBT updates here.