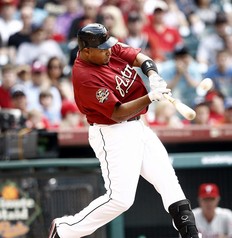 Astros outfielder Carlos Lee told Brian McTaggart of MLB.com Thursday that he might retire after the 2012 season, when his current contract runs out.
"I don't know if I'm going to play after this contract is up. I'm
ready to go home," said Lee.  "We spend so much time away from our family.  I can't spend
any other time with my kids. I get home at 10 o'clock, 11 o'clock and
they're sleeping and they get up at 6:30 in the morning to go to school
and I see them 10, 15 minutes. I want to be able to spend time with my
kid where they're still young and healthy. I want to enjoy them."
Lee is owed $18.5 million this season and the same sum in both 2011 and 2012.  The 33-year-old has a disappointing .204 batting average and a .248 on-base percentage through 103 at-bats this season, so he may have been venting because of his poor start.  But the family issues are certainly understandable.  Lee makes his offseason home in Panama, where he was born.  He has two sons
and two daughters.