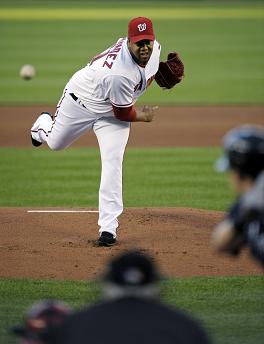 Livan Hernandez threw 123 pitches against the Braves last night and after the game a reporter asked Jim Riggleman if he was concerned about it.
Which is rather shocking to me, because it's Livan Hernandez we're talking about here. The 35 year-old (at least) Livan Hernandez. The Livan Hernandez who has averaged close to 200 innings a year for his career. The same Livan Hernandez who has thrown more than 120 pitches in a game 122 times in his career. The guy has thrown over 150 pitches on three occasions, for crying out loud.  If anyone can handle 123 pitches, it's Livan freakin' Hernandez.
Here's my thing about pitch counts. They're important with young arms, because studies have shown that pitchers below, say, 25 years old or so benefit with lower workloads. They're also important for guys who, over the course of their career, either suffer a lot of injuries or show a marked decline in performance when they're worked hard.
Granted, this covers most pitchers. But not all.  Just as there were some guys back in the day who could throw 250-300 innings year-in, year-out with seemingly no ill-effect, there are no doubt guys today who could do that too if given the chance.  Because of the well-advised caution, however, we just don't know who they are.  It'd be great if we could figure out who they were definitively because, man, wouldn't it be awesome if Bruce Bochy could pitch Tim Lincecum 40 times  year without concern for his health. But we just can't expect teams to take the kinds of risks necessary to figure out whether they have a modern day Fergie Jenkins on their staff.
But I think we can all agree that Livan Hernandez is one of those guys.  He's not good enough to justify giving him 300 innings in a year, but he could do it. And when he's pitching well like he has been so far this year, what possible reason would you have for not riding him until he breaks?
Which he probably never will.