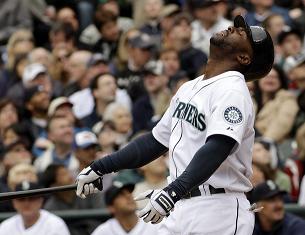 Milton Bradley returned to the cleanup spot last night after a few weeks either hurt or batting elsewhere. He went 0 for 3, and struck out looking twice.  After the second one, Don Wakamatsu lifted him from the game.
Whether Bradley's benching was to save him from himself — Bradley, you may be shocked to learn, was not happy with the umpire — or to save the Mariners from his ineptitude is unclear.  What is clear, however, is that he was angry about it.  Indeed, according to Gregg Bell of the Associated press "multiple Mariners" said Bradley's mindset was "not
good" after the game. The Seattle Times' Geoff Baker reports that Bradley's frustration was about the benching, not about his bad night at the plate.  He apparently threw stuff all over the dugout after he was taken out of the game.
Neither Baker nor Bell suggest that there was anything exchanged between Wakamatsu and Bradley, but both note that he wasn't in the clubhouse after the game.  Perhaps, like Eric Byrnes before him, he got on his bike and rode.
If this keeps up he may have something else in common with Eric Byrnes: unemployment.