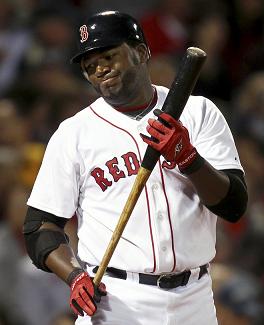 Already platooning with Mike Lowell because he can't hit lefties, Big Papi is now seemingly unable to hit righties too.  His line last night was ugly:  0-for-4, with two strikeouts and two double plays. As I mentioned in this morning's recaps, the second double play came with the game tied 1-1, the based juiced and no one out.  See the fail of it all here.
Ortiz now sits at .149/.240/.358.  And actually, he's hitting worse against the righties than he is the lefties (.614 vs. 694 OPS, respectively).  He's been atrocious with runners in scoring position (.356 OPS).  He has brought absolutely nothing to the table this season sans a butt in a roster slot that Mike Lowell's excellent hitting — .317/.391/.512, including a pinch-hit RBI double soon after Papi's DP — is making increasingly redundant.
At least his teammates have his back. Here's Dustin Pedroia:
"David's fine. He's one of our teammates. It could've
been me that hit into a double play. It happens to everybody, man. He's
had 60 at-bats. A couple of years ago, I was hitting .170 and everyone
was ready to kill me too. What happened? Laser show so relax. I'm tired
of looking at the NESN poll, 'Why is David struggling?' David's fine.
He's one of our teammates. We believe in him. He came out of it last
year, he's going to come out of it this year."
Pedroia is probably referring to 2007, when he was in the .170s at about this point of the season. Of course he was also 23 years-old at the time, was making the league minimum, was not expected to carry much of the Red Sox' offensive load, had defensive value and turned it around to earn Rookie of the Year honors.  Not exactly the same situation.
Pedroia is right about the fact that Ortiz did come out of it last year.  But is that something the Red Sox can count on again this year? And even if it is, is it something for which they can afford to wait?
If I'm Theo Epstein I thank David Ortiz for his service but send him off on an ice floe or a burning viking ship or whatever it is you do with old DHs who can't cut it anymore. Harsh? Maybe. But the AL East is pretty harsh too, and the Red Sox stand 6.5 games behind a couple of teams who show no signs of slowing down.
Something has to be done.  David Ortiz has got to go.