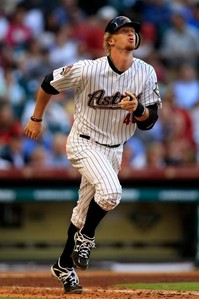 J.R. Towles had to know his margin for error was pretty slim at the start of the year. That he beat out 2008 first-round pick Jason Castro for a starting job was partly a financial decision — the Astros had quite a bit to gain there by sending Castro down for another two months — and partly a nod to the fact that, at age 26, he deserved one final chance to show the organization what he could do.
That chance figured to extend two months. After June 1, the Astros could call up Castro without fear that he'd be a free agent after 2015 or arbitration eligible after 2012.
But what no one counted on was the Astros' 8-18 start. And since the team has so many expensive veterans locked into jobs, there was no easy way to get to the root of the problem. Becausee doing nothing was no longer an option, Towles was sent down on Tuesday and replaced by light-hitting veteran Kevin Cash.
It's a ridiculous move designed only to show that GM Ed Wade isn't asleep at the wheel. A change for the sake of making a change. Towles was hitting .191/.235/.319 this season, but it was just 47 at-bats. Despite starting only 13 of the Astros' 26 games, he was third on the team with eight RBI.
Humberto Quintero, now the Astros' starting catcher, has been worse than Towles, hitting .214/.250/.286 with three RBI in his 42 at-bats. The 30-year-old Quintero is a career .231/.273/.322 hitter in 590 major leaguer at-bats. Cash, 32, has hit .186/.248/.287 in his 527 at-bats.
When it comes to defense, Quintero is almost certainly an upgrade over Towles. Towles, though, had been far from bad this year. He was 3-for-11 throwing out basestealers, and he hadn't allowed any passed balls. His catcher ERA of 4.55 was higher than Quintero's 4.01 mark, but that's due the fact that the Spanish-speaking Quintero was used as the personal catcher for Spanish-speaking No. 2 starter Wandy Rodriguez.
In the long run, it's really not going to matter. Castro is the future, even though he's been quite a disappointment while hitting .221/.369/.250 in 68 at-bats for Triple-A Round Rock. Quintero is just keeping his seat warm. Towles was likely on his way out of the organization even if he came through with a solid 2010 as a starter. Of course, any chance that he'd have some actual trade value now appears to be gone.