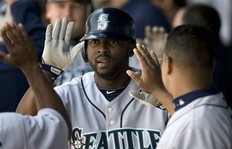 UPDATE:  MLB.com's Peter Gammons received a text from Bradley on Wednesday night stating: "Any reports I said
I'm packing up and leaving are 100% fabricated."  It should come as no surprise.  He may be an abrasive man, but he's not going to leave $21 million on the table.
9:49pm: As Craig chronicled earlier, Milton Bradley left the Mariners' clubhouse in the middle of Tuesday night's game after an altercation with the home plate umpire and, eventually, Seattle manager Don Wakamatsu.  On Wednesday Bradley took the first step in making up for that childish and immature act, asking the Mariners for "help" with his issues.
It's good to hear that Bradley is beginning to recognize that the problems that have plagued him throughout his career are mostly of his own fault, and that there are people rooting for him to succeed.  The Mariners have done nothing but treat him with graciousness and respect, rescuing him from a volatile situation in Chicago and giving him an opportunity to play every day while other teams scoffed at the idea. 
Of course, we can't assume that a new leaf has been turned because we've all seen Bradley burn faithful organizations in the past.  He needs to commit to playing the game of baseball with a level of calmness and respect — the same kind of respect that Wakamatsu and Co. have shown him this season.  He also needs to make a conscious effort to fix whatever causes him to act out, whether through therapy, medication or both.  Bradley has undoubtedly gone through required psychotherapy in the past, but it's time for him to take it seriously and accept that changes need to be made.  Contrary to what the fans of Wrigley Field might think, the guy is not incapable of righting the wrongs in his own life.
Bradley, who just turned 32, has a .214 batting average, a .313 on-base percentage and seven extra-base hits in 70 at-bats this season.  He was not in Wednesday's lineup and may be asked to sit out until the weekend to allow further time for reflection.