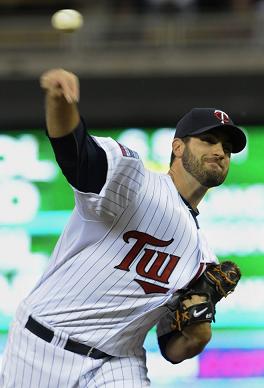 Twins 4, Tigers 3: Nick Blackburn gave up 11 hits in a complete game. This had me thinking about the concept of "scattering" hits last night. I mean, I wanted to say that Blackburn scattered 11 hits over nine innings, but 11 seemed like too many. I was thinking that scattering applies to eight
hits max, and after that you're just getting out of jams all night.
But I wasn't entirely sure, so I asked two extremely smart baseball people: ESPN's Rob Neyer and Sam Miller of the Orange County Register.  They both basically gave me the same answer: it's not the hits that determines whether you scattered them, it's the runs.  Give up less than four runs and you can scatter 20 hits if you want to.
I still can't say I'm entirely comfortable with this — 11 hits seems like a lot to scatter, and I don't know that anything more than a 1:1 innings-to-runs ratio can truly be called scattering — but at some point you just have to defer to authority on these things.
Nationals 6, Braves 3: OK, deep breaths. I had let Livan Hernandez off my sh– list because the 1997 NLCS was a long time ago. I had finally moved on and vowed to not let that man aggravate me anymore. I even wrote an ATH entry a week ago wishing for nothing but the best for him as he puts together an improbably good season. Yet I find myself aggravated as all hell that his slow pitches and crappy control still manage to beat the Braves after all these years. More deep breaths.  Ahhh. OK, there. I'm better now. Congratulations on another successful outing, Mr. Hernandez. Kudos on a job well done. [twitch!] [twitch!].
Diamondbacks 1, Astros 0:  That's the thing about Houston. They're so versatile! They lose the close ones, they lose the blowouts, they lose on the road, they lose at home. They can do it all!
Mets 5, Reds 4: John Maine has allowed just seven earned runs in his last four starts, which is cool.  Also cool was Rod Barajas' tiebreaking homer in the ninth. Well, at least if you're not a Reds fan it was cool. For Reds fans it rather sucked, I suppose.
Giants 9, Marlins 6: Tim Lincecum strikes out 13, but gets a no-decsion as his bullpen can't hold the lead for his second straight start. Overall the Giants struck out 20 Marlins.
Phillies 2, Cardinals 1: Before last night's game, Cardinals manager and fellow attorney Tony La Russa said, when asked about the taser incident, that "I just think it's
acceptable, because it's a good deterrent."  I can't find any comment from him this morning about how damn good a deterrent it was based on the fact that someone ran out onto the field the very next night.  Oh well.  Jackass fans aside, Hamels and Lidge looked like it was 2008 all over again. So Philadelphia has that going for them. Which is nice.
Royals 7, White Sox 2: Zack Greinke should really start following Luke Hochevar around and ask him what he does to get the Royals' offense to score all those runs for him.
Red Sox 5, Angels 1: Nice win, blah, blah, blah, but it's time to cut Papi, right?  I mean, Mike Lowell went 4 for 4 with 4 RBI on Monday, and then last night Ortiz goes 0 for 4 with two strikeouts and hit into two double
plays, the second of which came in the eighth with the bases loaded, nobody
out, and the score tied.  This is a fireable offense, right?
Pirates 3, Cubs 2: I can't recall a team that wins practically all of their close games yet gets the snot kicked out of them in all of their losses quite like the 2010 Pirates do.  Fifth homer in four games for Alfonso Soriano. Two-run jack for Ryan Church despite suffering from the stomach flu. I'm never completely sure what they mean when they say "stomach flu," but I always assume it's one of those things you get where you don't even want to walk down the stairs too fast lest you ruin your trousers. How you hit a ball 380 feet or whatever it was with that preying on your bowels I have no idea, but that's why Ryan Church is a ballplayer and I wear my pajamas all day.
Yankees 4, Orioles 1: A.J. Burnett could get used to pitching against the Orioles. Last Thursday he dominated them and last night he takes care of the O's business once again (7 IP, 5 H, 0 ER, 8K). And how about Francisco Cervelli? The catcher hits his first career triple (thanks to an Adam Jones dive that came up short) and makes a nice catch on a foul pop to end the fourth.
Blue Jays 8, Indians 5: Nine walks by Indians pitchers.  Know what? I watched Josh Tomlin pitch for the Columbus Clippers on Monday night and he looked better than most of what Cleveland has been throwing out there each night. Call him up. Can't hurt.
Brewers 11, Dodgers 6: Clayton Kershaw turns in his worst performance ever (1.1 IP, 5H, 7 ER, 2BB, 2 HBP). The only highlight for Dodgers fans was a knuckleballer turning in four solid innings of mopup duty. Prince Fielder and Gregg Zaun each homered in the nine-run second inning. Zaun finished a triple short of the cycle. Hey, we can't all be as fast as Francisco Cervelli.
Padres 3, Rockies 2: Chase Headley singled in a run in the bottom of the ninth after the Rockies walked Adrian Gonzalez to get to him. Maybe the lesson here is that intentional walks suck, but I'd probably have walked AG to get to Headley too. What I would have tried not to do was to walk leadoff hitter Lance Zadawzki before Gonzalez which, after a sacrifice, allowed the winning run to reach second.
Athletics 7, Rangers 6: Ryan Sweeney was 3 for 5 with a homer and 5 RBI for the A's. Vlad Guerrero hit a grand slam and had five RBI for the Rangers. Scott Feldman got lit up early, though, and when you spot the other guys five runs, you don't make life easy on yourself.
Rays 5, Mariners 2: James Shields allowed only two runs on eight hits and struck out 10. Four errors for the Mariners, who are supposed to be pretty good on defense. On offense the Mariners looked like they weren't even trying. Take the seventh inning. The M's, having no luck against Shields, figure to have one chance, and that's to get him out of the game and into the Rays' bullpen.  Take some pitches then, right? Work the count?  Nope: they go down on four pitches. Four. Jose Lopez takes a strike and then he, Casey Kotchman and Jack Wilson swing at the next three pitches for two groundouts and a fly out.  Mercy.