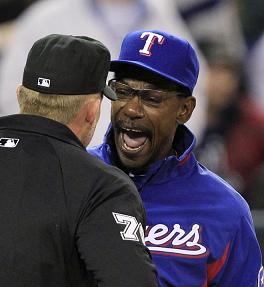 Rich Harden fielded a chopper to the mound in the second inning of last night's Rangers-Athletics game. He ran it back to the bag himself, beating Eric Chavez by a mile.  Chavez was called out. Problem: based on the video, Harden did not appear to touch the bag. The umpires conferred after the call and the first base umpire's original call of safe was overturned. Correctly, it would appear.
This, not surprisingly,caused Ron Washington to come out and argue the call. Despite being ejected just this past Friday, Washington does not have a reputation as a combustible manager. His argument, which you can also see in the linked video, also seems subdued.  So why the ejection? According to crew chief Joe West, Washington was ejected because managers "are not allowed to argue
after the umpires confer on a call."
Um, OK.  This is nothing I've ever heard before. I mean, on some level I can understand it if a manager argues, gets the umpires to confer, they confer and the call that caused all the trouble is upheld, because at that point the manager is really no longer trying to persuade as much as he is just bitching.
But that's not what happened here. Washington had a favorable call overturned, and he was arguing the overturning in the first instance. This was Washington's beef after the game when he said "Bobby Geren can argue and I can't argue?"
I'm with you Ron. I mean, you were wrong because Rich Harden clearly didn't touch first base, but it seems like you're just as entitled to argue a call as the next guy, and that's all you were doing.