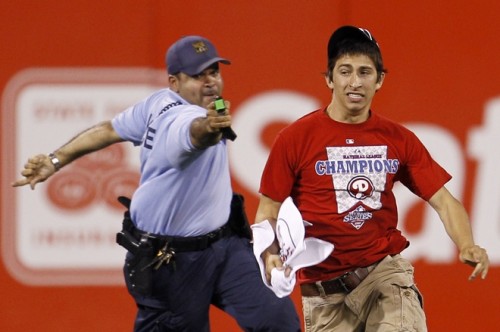 There's so much going on in this photo that I'm not sure where to begin. For starters you have just the latest example of wonderful Phillies fan behavior. No, this guy didn't puke on anyone or anything — he was simply tasered and hauled off — but you have to give Phillies' fans the benefit of the doubt with this sort of thing and presume that he would have puked on someone had he gotten the chance. I mean, there's a track record there.
You also have, frozen forever, the image of a police officer at the precise moment he decided to lose his job. Oh, sure, they may stretch things out a week or two and make an inquiry into the officer's use of force, but when you decide to fire your taser at someone who, however big a knucklehead he happens to be, does not appear to represent anything approaching a threat to himself or others, you're not coming out smelling good on the other end.
Indeed, it strikes me that maybe the security guard fired the taser because he was embarrassed that he couldn't catch the kid and wanted to end the crowd's laughter. While that's funny on some level, it's not nearly as funny when you realize that hundreds of people have died as a result of being tasered. Bad move, bro.
In any event, this was all great fun because everyone appears to have ended up being OK, but this is certainly not an incident that's going to make anyone particularly proud.
UPDATE: Video here, at least until it is decided that it is being transmitted without the express authorization of Major League Baseball.