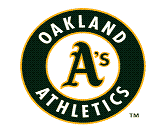 I missed this one from last week, but given that today seems to be all about Constitutional rights and unruly fans and everything, it's timely enough.
The Athletics had a fan removed from the Coliseum last month for holding up a sign that said "Wolff Lied. He Never Tried," obviously referring to owner Lew Wolff's comments about how he's done everything he could to keep the team in Oakland as opposed to moving it down to San Jose. No word on whether the fan with the sign was tased in the process of being removed, but he probably deserved it if he was, because the sign could have had a hidden death laser in it or something. You just never know!
Going forward, however, the Athletics are going to have to put up with the critical signs, because the city has decided that the Athletics' policies against the signs violates the First Amendment. Indeed, Oakland's city attorney said that "the A's may not impose restrictions against personal attacks or bad taste — unless the restrictions are explained by a legally compelling reason."
Since we seem to have so many Constitutional law scholars reading the blog today, I don't have to tell you that those reasons include the incitement of violence or material that is obscene to local standards. Which, considering this is the East Bay, is pretty much nothin'.
So feel free to fly your Anti-A's flags in the Coliseum, folks. Even if doing so makes Lew Wolff try even harder to get his team in a private facility where he can control every single thing you do.