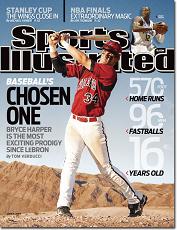 The Post's Adam Kilgore reports that the talk of his allegedly bad attitude and his high asking price has apparently done nothing to dissuade the Nats from drafting Bryce Harper first in next months' draft. In fact, it sounds like Washington is hotter for Harper than they ever have been:
Nats' GM Mike Rizzo went out to Vegas to see him play in two doubleheaders and all Harper did was gor 6 for 12 with two doubles and four walks.  Nats' director of amateur scouting Kris Kline called Harper, "a huge
priority for us." As for those attitude problems, Kline says "I think he's got great makeup . . . I have absolutely no
problems with the kid's makeup. He's a great kid."  Kline went on to call him "a class act."
This all sounds like a team that is transitioning from scouting Harper to selling him as the next new face of the Washington Nationals.