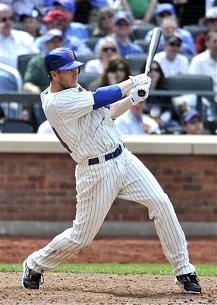 Jason Bay decided to make Larchmont, New York his in-season home. According to this sweet story in Sunday's New York Times, he's the talk of the village. The author's young son decided to reach out to the superstar slugger:
For his part, Gabriel decided to write Mr. Bay a letter and wrap it
around a baseball. I quote in part: "I am a huge Mets fan (like die-hard
even in the years when they weren't so good!) Here is a baseball. Can
you sign it and return it to your mailbox this week between 2:25 and
3:15 (so I can retrieve it)." He was going to put it in the Bays'
mailbox, but it was locked, so he stuck the letter and baseball between
boards in their white picket fence.
Yep, you guessed it: a couple of days later the ball was placed back in the fence, signed by Bay. My warm fuzzies over this story will probably last a good while.
Indeed, I like the story so much that I'll do everything in my power to pretend that sad-sack grownup memorabilia hounds won't ruin it all by staking out Bay's home, sticking balls and photos in his fence accompanied by fake letters from "kids" in the hopes that they'll have new stuff to place on the shelf of their seedy collectibles shops next to their very rare Mary Worth comics.