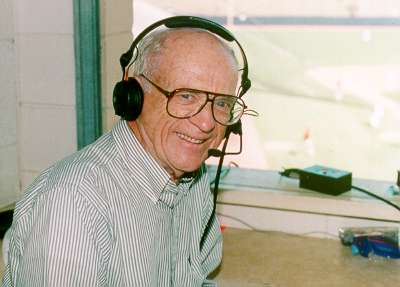 I knew this day was coming since September. It actually came later than I thought it would, based on all we heard about his diagnosis. But neither its inevitability nor its delay softens my sorrow. Ernie Harwell has died at the age of 92. 
I wrote this back in September, but it bears repeating: I was a nervous kid, afraid of the dark and afraid of going to sleep
myself. My parents let me turn on the radio at night as I went to bed
and the talk, rather than the music, made me feel better. The voice
that gave me the most comfort was Ernie Harwell's voice on WJR, which I
latched onto before I even truly realized it was describing a baseball
game.
Ernie put me to sleep most spring and summer nights for several years,
teaching me about baseball in the process. He also taught me that I
could enjoy it just as much if I could not actually see it, which I
can't help but think is the reason why I enjoy writing up the "And That
Happened" recaps every day. I see very few of the games I
describe, but just because I don't see them doesn't mean that there
isn't a story to be told. Information and flavor to be teased out.
Maybe you always have a thing for your first love, but I think I'm being
objective when I say that I have never encountered a better baseball
broadcaster than Ernie Harwell. How lucky that I had him putting me to
sleep when I was four years old as opposed to someone else. Would I
have even been a baseball fan if it was someone else's voice on the
radio? I kinda doubt it.
Farwell, Ernie. Your like or equal will never be seen again.