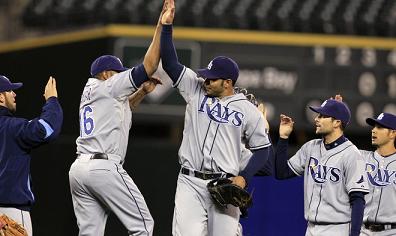 1. Rays: They dropped two out of three to split a four game series with Kansas City at home and could have easily lost three, but we'll keep them in the top spot for now. The nine-game west coast swing on which they are about to embark will tell us just how strong these guys really are.
2. Yankees: And with Mark Teixeira heating up, the Rays may get knocked out of the top spot even if they don't turn in a bum road trip.
3. Cardinals: It's not just the Pujols show so far this year. David Freese had a great week and while last year they only had two real go-to starters, this year they appear to have four.
4. Phillies: The Giants series hurt, but seeing the offense wake up against the Mets is an encouraging sign. The next four games against the Cardinals could be an NLCS preview.
5. Tigers: Are they as strong a team as the Twins? I'm a bit dubious, but they took two of three from them, and swept the Angels, so I have to put them a notch above. They play Minnesota three more times this week, though, so this may be temporary.
6. Twins: Oh, and with Mauer gone, you have to figure that Twins futures are selling a bit lower today than they were, right?
7. Padres:  If the Padres were a stock I'd consider selling high, but I've said that for a couple of weeks now and look how wrong that was. In other news, my portfolio is like a bloody car wreck these days, so take all my financial market analogies with a grain of salt. Oh, and don't doubt the Padres, because they don't like it. Of course every team that has some unexpected success says that, so such stories are boring. If and when they tank, however, I think I'll call them back for comment to see if it's OK to doubt them. That's a story you never see.
8. Giants: I've been saying that San Francisco needs some offense for a couple of years now, though I guess if they continue to have four world-beating starters they can get by like they're the 1988 Dodgers or something.
9. Mets: I'm not going to call off the Mets' happy-party just because they lost 2 of 3 to a strong Phillies team. Let's see if they take care of business against the Reds before we make any declarations.
10. Rangers: I decided to be audacious and pick the Rangers to win the west last year and they didn't. Cowed at my failure, I went back to picking ol' reliable Anaheim this year. My prognostication patterns are much like my fashion sense: often wrong, but for radically different reasons depending on when you catch me.

11. Athletics: I don't know if Billy Beane signed Ben Sheets to
actually make a run at the division or to simply hope for a hot first
half after which he could flip the guy, but
neither plan is panning out very well.
12. Cubs: They're playing much better baseball and now they get
series against the Pirates, the Reds, the Marlins and then the Pirates
again. I predict that there will be much more enthusiasm about this team
that is actually warranted come mid-month.
13. Marlins: Nice weekend, Marlins, but now you have Lincecum,
Zito and Cain coming to town.
15. Rockies: They're still only four games out, so it's not a
lock that Colorado is going to need another one of their patented
ungodly tears to win the division, but we're getting closer to that
point each day.
14. Nationals: Great
post over at Federal Baseball explaining why the Nats are above
.500, but why it won't last.
16. Blue Jays: I repeat, there is absolutely no truth to the
rumors that the Royal Canadian Mounted Police are going to start shaking
down visiting U.S. ballplayers for proof of legal immigration status
when they're in town to face the Blue Jays.  That's nothing more than a
hilarious, hilarious rumor.
17. Angels: I would officially like to use my one mulligan of the
week to take back my "slowly but surely, the Halos are righting the
ship" comment from last week.
18. Braves: I'll believe that they're back on track when they
beat someone who isn't the Astros.
19. Dodgers: I'll believe that they're back on track when they
beat someone who isn't the Pirates.
20. Mariners: I should probably drop them down a couple of
notches given the sweep at home against the Rangers, but (a) the return
of Cliff Lee; and (b) the exile of Eric Byrnes may have worked off the
weekend's karma just enough to keep them stationary.
21. Reds: Same Houston caveat applies to the Reds that applied to
the Braves, but let's be clear: the starting pitching is improving and
guys who need to hit well for this team to be successful (i.e. Jay
Bruce) are heating up. They may have some of that widely-predicted
pre-season friskiness in them yet.
22. Diamondbacks: These fellows give up so many runs that the
State of Arizona should divert anti-immigration resources to
arson-prevention.
23. Red Sox: The cartoon at
this post would be much cuter if I didn't believe that a healthy
portion of Red Sox fans thought that the current plight of the team was
worse than the plight of the gulf coast.
24. Indians: A year ago at this time it was controversial to
suggest that the Tribe could trade Grady Sizemore as a part of its
rebuilding effort. Now it's hard to imagine that they'd get a hell of a
lot for him (.207/.271/.310).
25. Brewers: I really need to make a honorary last place on this
list for teams that aren't truly the 30th best in baseball but who do
things to make them worse than the 30th team for one brief shining
moment. Things like getting shut out in three of four games.
26. White Sox:  This team misses Jermaine Dye, Scott Podsednik
and Jim Thome. That's a pretty sad statement, but it's true.
27. Royals: You know what's gonna be a hoot? In 15 years, after
Zack Greinke plays out his string in Kansas City and is winding down his
career in New York or someplace like it, BBWAA members are going to be
talking about how, while he's close, Greinke just isn't worthy of making
the Hall of Fame because he wasn't a "winner."
28. Orioles: They still have the worst record in baseball, but if
you sweep the Red Sox, you deserve to be elevated out of the cellar.
NOTE: offer not good later in the season when sweeping the Red Sox is
seen as no big trick.
29. Pirates: They beat the Dodgers on Thursday and I figure
they've turned a corner. Then they get outscored 20-6 in the final three
games. Say what you want about the 2010 Pirates, but they are not a
team that does anything half-assed.
30. Astros: What
he said.