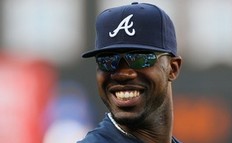 The Slanch Report alerts us to what may be the worst bobblehead ever. It's the Jason Heyward edition the Gwinnett Braves are putting out, probably out of spite due to Heyward not getting a chance to play for the Gwinnett Braves this year.
As Slanch notes via photographic evidence, the bobblehead looks nothing like Heyward. As he said to me on Twitter, one gets the sense that they just pulled "Generic Black Face #4" out of the bin, slapped it on and figured that commerce would take its course. Which it probably will — people at the card show I went to yesterday were poised to give their organs for any old thing with Heyward's face on it — but it doesn't make it right.
Anyway, I've been staring at the Heyward bobblehead for many long minutes trying to figure out who it actually looks like. Best I can come up with is C. Thomas Howell in "Soul Man." Which, you may be shocked to learn, does not hold up as an entertainment.
UPDATE:  OK, as a couple of you have pointed out, the Heyward doll isn't the worst bobblehead ever.  Brian Roberts takes that honor.