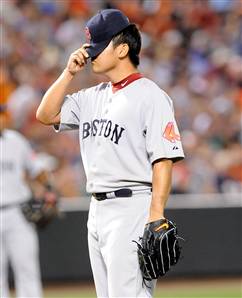 The Boston Red Sox were swept by the Baltimore Orioles over the weekend. I'll let you take a moment to read that again.
Yes, we know that it's a long season and teams have their ups and downs, but this is the Orioles we're talking about. A team that was 2-16 not so long ago, a franchise that hadn't swept Boston (at home) in 36 years.
Boston has its share of problems. The Red Sox's pitchers rank 25th in ERA and 23rd in opponent slugging percentage. The hitters are 15th in batting average, 13th in on-base percentage, and 13th in runs scored. Some of these problems will be helped with a little bit of good health (Jacoby Ellsbury, Mike Cameron), and with a return to form – or at least something resembling decent play – from Daisuke Matsuzaka (pictured) and David Ortiz.
All of which brings us to this week, which is a big one for Boston, about as big as any early May series could be. First the Red Sox face the Angels in a four-game series at Fenway, then they play host to the hated Yankees in a three-game series over the weekend.
At 11-14, the Red Sox are in fourth place, seven games behind the AL East-leading Rays. And while it's far too early to suggest that this week will make or break Boston's season, it's still a big stretch of games. You don't want one little sweep to the Orioles to snowball into something bigger. The way the Rays and Yankees are playing, you don't want a bigger hole to dig out of. Otherwise, the next thing you know you'll be talking about whom to deal – instead of acquire – at the trading deadline.
FIVE SERIES TO WATCH
Writer Henry Schulman was so tired of seeing New York teams on ESPN that he decided to boycott Sunday night's Mets-Phillies game. So to avoid being boycotted by Mr. Schulman, we won't put Yankees-Red Sox (May 7-9) on the list here. We won't even mention that series. No way. Not a word. You say we already did? Oops!
Rockies at Padres, May 3-5: Colorado was considered by many to be the favorite to take the NL West this year, but they're struggling at 12-13. Meanwhile the Padres are riding dominant pitching to a 16-9 start. Can it continue?
Tigers at Twins, May 3-5: The Tigers took two of three in a series between these two teams last week in Detroit. Now the Twins get a chance for revenge at Target Field.
Cardinals at Phillies, May 3-6: Joe Blanton is back off the DL and will make his season debut Monday against the Cardinals. This four-game series should be a doozy. NLCS preview, anyone?
Angels at Red Sox, May 3-6: This four-game series is a rematch of a 2009 ALDS series, which the Angels swept. This time, though, John Lackey will be pitching for Boston. He'll face his ex-teammates on Wednesday.
Giants at Mets, May 7-9: Schulman covers the Giants. Unfortunately he won't see them on ESPN against the Mets this weekend, because the worldwide leader is showing that other New York team play against some team I won't mention from Boston.
ON THE TUBE
Monday, 7:10 p.m. ET: Angels at Red Sox (ESPN)
Wednesday, 7:05 p.m. Cardinals at Phillies (ESPN)
*Saturday, 3:10 p.m., Braves at Phillies (FOX)
*Saturday, 3:10 p.m., Yankees at Red Sox (FOX)
Sunday, 1:35 p.m., Braves at Phillies (TBS)
Sunday, 8:05 p.m., Yankees at Red Sox (ESPN)
*Check local listings
And for those of you who have asked for a schedule of MLB Network games, you may find that here.
Are you on Twitter? You can follow Bob here, and get all your HBT updates here.