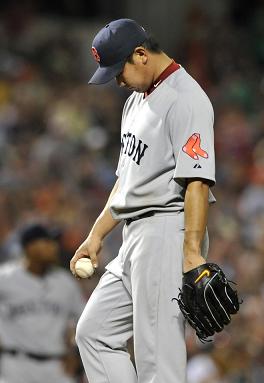 I'm not gonna say that the Red Sox' sweep at the hands of the Orioles wasn't six kinds of bad for Boston because it was, but the level of fretting I've read about it since yesterday is getting out of hand. Take this post from WEEI's Alex Speier. If you didn't know any better you'd think that the Sox were swept by someone from the Carolina League or something.
Baltimore is described as "the lowly Orioles," and "easy marks" who everyone thought would provide "three easy wins."  The article laments the fact that the Red Sox could not "manhandle" or "annihilate" an Orioles team that is on par with a "brutally bad" Royals team from 2006. The sweep is referred to as "an alarming turn of events" and "a humiliating series of games" which provides a "dark commentary" on
the Red Sox' season.
I'm not trying to pick on Speier here — his is merely representative
of any number of articles I've seen and, rhetoric aside, his analysis is spot-on — but isn't this laying it on a bit thick? Is it not possible that Baltimore isn't as bad a team as their record thus far indicates and that Boston isn't as good as their preseason press assumed?
More generally it's worth noting that this is baseball, and no one "manhandles" or "annihilates" anyone in this game. Even the best teams you tend to see in any given year win less than two out of every three games, and every World Series champ in living memory has dropped a series on the road to a division rival.
Which, by the way, is one of the reasons baseball is cool. Football has popularized the "any given Sunday" thing, but every year there's a team or two in the NFL that buzzes through the season and for whom a single loss to a lesser team truly does represent some "dark commentary." It's in baseball where anything cab happen on a given night — or three given nights in a row — and often does.
Because of this it makes little sense to characterize this weekend's series in the way I'm seeing it characterized.  A characterization, I may add, that is profoundly disrespectful to an Orioles team that, though it has struggled early, possesses a great deal of talent.