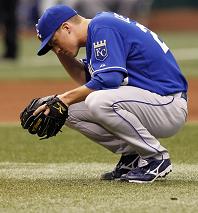 Dave Brown at Big League Stew watched Zack Greinke's dominant yet losing performance and thinks that it's high time we just get rid of wins for pitchers altogether:
Does a point guard get a "W" in basketball? Hockey goalies may get
wins and losses, but does anyone pay as much attention to those
statistics as they do in baseball?
Quarterbacks have W-L records, I guess, but it's paid such little mind.
What was Johnny Unitas' record? Joe Montana's? Peyton Manning's? Nobody
has much of a clue without
looking it up.

As individualistic as baseball can be, it's still a
team sport. Just because some people believe the game to be "75 percent
pitching" doesn't make it so. It's never been like that. Not even in
the 19th century, when guys like Old Hoss Radbourn were throwing 600-plus innings in a season, like they were
larger-than-life biblical characters who, it was said, lived for 10
centuries.
Brown is actually rooting for Greinke to keep dominating, but keep losing, so that people will finally start to understand that wins are rather arbitrary and largely dependent upon one's teammates. Sometimes, as in Greinke's case, teammates who suck.
I don't know that I'd go that far, but anything that takes the wind out of people's "Pitcher X just knows how to win" hogwash would be a good thing.