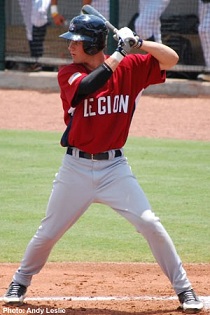 Jon Heyman of Sports Illustrated has a source telling him that Bryce Harper is going to seek to break Stephen Strasburg's record $15.67 million signing bonus when he's selected next
month, almost certainly by the Nats. Man, he gets all the scoops.
I'm a bit skeptical. MASN's Ben Goessling reported a couple of weeks ago that Scott Boras himself — who represents Harper — has said that he does not consider Harper to be in the same class as Strasburg. I suppose this could be negotiation ju-jitsu of some kind, but it's probably the truth.  A near-finished pitching prospect is simply much closer to contributing to a major league team than is a 17 year-old slugger who plays a position — catcher — at which prospects tend to most slowly mature. In light of that I'd be a bit surprised if Harper gets more than Strasburg gets, pre-draft campaigning notwithstanding.
Still, there's very little doubt that Haper will get the record bonus for a position player. That mark is currently held by shortstop Tim Beckham, to whom the Rays gave $6.15 million in 2008.