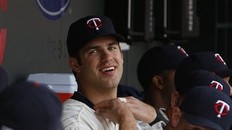 UPDATE: Twins manager Ron Gardenhire told Kelsie Smith of the St. Paul Pioneer Press that Mauer is more "week-to-week" than he is "day-to-day."  It sure sounds like he could hit the 15-day disabled list.
SATURDAY, 5:34pm: According to Joe Christensen of the Minneapolis Star-Tribune, Twins catcher Joe Mauer has been scratched from Saturday's lineup against the Indians with a bruised left heel.  Drew Butera will start behind the plate, making his fourth career major league start.
The Twins have also recalled catcher Wilson Ramos from Triple-A Rochester, which might be an indication that Mauer's injury is rather serious.  Not serious in that he will need DL time, but enough so that he could miss the next two or three games.
Mauer, who inked a massive $184 million contract extension this spring to remain in the Twin Cities long-term, has a .345/.406/.500 batting line through 84 at-bats this season, but has hit just one home run and has collected only 13 RBI.  By his other-worldly standards — and solely from a power standpoint — it's been a slow start.