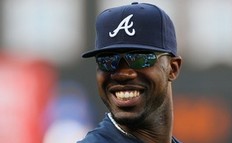 Braves rookie Jason Heyward continued his attack on the National League Sunday, pegging a four-year-old boy with a batting practice home run just hours before first pitch.  He's a dangerous, dangerous man.  A slugger on the loose.  Dave O'Brien of the Atlanta Journal-Constitution has the story.
All is well — the boy only suffered a bump on his head, a bump he'll probably never forget.  But Jason Heyward must be stopped.  From car windows to the hearts of fans of ever other National League team, Heyward won't cease until he has crushed them all.  And now he has turned on the Atlanta faithful.
OK, enough of that.  I don't want to yap my way into the rath of Cool Papa Craig.  Heyward, 20, has a stellar .383 on-base percentage, .564 slugging percentage, seven home runs and 20 RBI through just 24 games this season.  Oh, and that boy?  He also got an autographed ball from the rookie sensation.