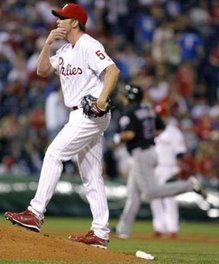 Entering Friday, it was assumed that Brad Lidge would be eased back into the closer's role, sharing the responsibility with Ryan Madson. Well, now the Phillies are without their safety net.
Madson was placed on the 15-day disabled list on Friday afternoon after breaking his right toe. He told of Todd Zolecki of MLB.com that he suffered the injury after kicking a metal folding chair in frustration following a blown save against the Giants on Wednesday afternoon.
"I'm embarrassed, I let down my teammates," Madson said. "I let down the
fans that want us all to be out there playing hard for them. I feel
terrible about that. That's probably the worst part. It is the worst
part. I've done it before. Not kick stuff, but I've gotten upset before
and never broken a bone. It's just one of those things. I learned from
it. I won't do it again. I realize how much I'm letting my teammates
down and the fans."
In turn, Lidge made his season debut in a non-save situation against the Mets on Friday night and was rudely welcomed by Rod Barajas, who slugged his second home run of the game. Lidge was pulled by manager Charlie Manuel after just 11 pitches and three hard-hit balls. According to Brooks Baseball, he averaged just under 92 mph on his fastball and topped out at 93 mph. It's hard to take many positives from Friday's performance if you are a Phillies fan, but Manuel tells Zolecki that he only wanted Lidge to get his feet wet.
"He still needs work," Manuel said. "I was just putting him in for a
couple of hitters, really; I wanted to get J.C. Romero in the game for a
couple of hitters. But Lidge needs work."
Doesn't exactly sound like someone who is going to pitch the ninth inning right away.
Looking at the alternatives, Danys Baez has the most closer experience, though the Mets torched him for four runs on Friday night. For what it's worth, Matt Gelb of the Philadelphia Inquirer believes that Jose Contreras is the backup to Lidge at this point. And with a 1.35 ERA and a 12/0 K/BB ratio over his first eight appearances this season, he certainly deserves to be.
As for Saturday, Manuel is probably hoping Roy Halladay can make it a moot point and all go all nine.