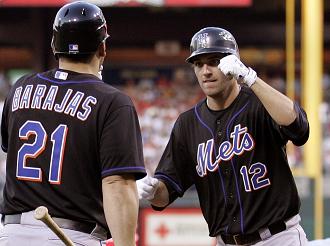 Highlight of the night as far as I'm concerned: A Philadelphia father helps his baby daughter throw the ball back onto the field after a Rod Barajas home run in the Mets-Phillies game.  As someone who is raising a taunting young girl himself, he's a man after my own heart.
People like to rip Phillies fans for their attitude, but you gotta give them credit for their passion.
And speaking of passion and/or attitude, you all may think I try to needle opposing fans, but check out what the New York Daily News' Kevin Deutsch did yesterday:
Risking life and limb, I marched into Citizens Bank Park wearing Mets regalia Friday and loudly chanted the three words that drive every Phillies fan insane: "LET'S GO METS."

I repeated the time-honored refrain all over the ballpark and at some of the city's best-known landmarks, drawing boos, threats, curses and taunts wherever I turned.

But with the Amazins' building upon their NL East lead with an 9-1 blowout victory, Mets fans have bragging rights here for the first time in years. Our old rivalry once again has some juice to it. I wasn't about to pass up the chance to do a little gloating.
I'm sure some people will have a problem with a reporter gettin' into it like that, but I think it's great fun.  Call out the media if they get the facts wrong or distort things in dishonest way. But stirring things up can be great fun sometimes. It's sports. It ain't national defense policy. Why not get some kicks out of it?
And oh yeah: the Mets Rod Barajas homered twice, Jonathon Niese shut down the Phillies' lineup and New York beat Philadelphia 9-1 for the Mets' eighth straight victory.
The NL East is gonna be a hoot this year.