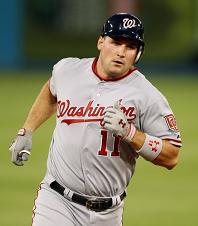 Ryan Zimmerman hadn't played in nine days with a bum hamstring, but he returned last night and hit
two home runs — both full-count blasts off Ricky Nolasco — to lead the Nationals past the Marlins. Zimmerman ended the night with
the two bombs, a double, a walk and three RBI.
The Mets, Nats and Phillies are all within 1.5 games of each other. The Marlins are three back. Despite their horrific skid, the Braves are only five back.
Like I said a couple of hours ago: the NL East is going to be fun times.