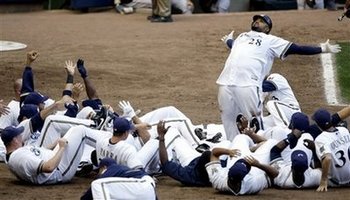 Via MLB Trade Rumors, Jon Heyman was on the MLB Network last night and opined that despite some preliminary talks, the Brewers are not likely to be able to sign Prince Fielder to an extension and that the big man will be traded before he can become a free agent after the 2011 season. Ryan Howard's $25 million/year contract is the culprit. Fielder is younger than Howard, would expect at least that much money over a longer period and that may simply be too rich for Milwaukee.
This isn't necessarily a controversial position, as the Brewers were suspected to be thinking more along the lines of Mark Teixeira money (his contract tops out at $22.5 million a year).  But as we all know, Heyman tends to know what's happening with Scott Boras clients, which Prince Fielder is one, so the notion that the Brewers aren't going to have enough money to keep Fielder may be a particularly informed bit of analysis.
It's a bit premature to analyze Fielder's worth on the free agent market like we all did with Howard this past week, but my gut feeling is that, yeah, he's going to ask for and is probably worth Howard money, at least on a per annum basis. Contract length is going to be the real issue with him, and given his apparent future as a DH, you can figure that teams are going to loathe to go long with him.
The Brewers are 9-14 and aren't playing inspired baseball.  If I'm running that team and I think that Boras is going to use Howard's deal as a starting point, I consider unloading him this year.