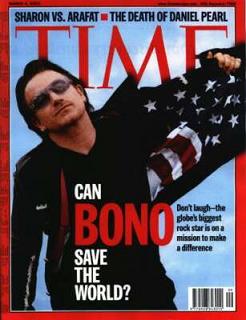 I'm sure Bono didn't mean to bug ya, but he's doing it all the same:
Don't know whether or not Bono favors the designated hitter rule, but
based on U2's summer concert tour, they're definitely American
Leaguers.

The band is playing Angels Stadium
(June 6-7), the Oakland Coliseum (June 16) and Toronto's Rogers Center
(July 3) before, finally, landing in NL Florida's Landshark Stadium (or
whatever they're calling it now, on July 9). And it wreaked havoc with the 2010 schedule.
The reason it's wreaking havoc: U2 needs a park for 10 days to simply build and tear-down the stage setup for a single night's concert. As a result, the Angels have a fourteen-game road trip in their future come June.
All of which would be fine if U2 was any good anymore, but ever since they decided that nostalgia was more important than being interesting [cough!] "All That You Can't Leave Behind" [cough!] they've been adrift on a sea of awfulness. I mean, "Pop" was no great shakes, but at least they were trying something.
Where was I? Oh yeah, baseball. 
This is not unprecedented of course. As the linked article notes, the Astros went on the road for a month in 1992 when the Republican National Convention was held in the Astrodome. That was a 26-game road trip, during which the Astros went 12-14.
But the 1992 Astros weren't exactly contenders like the Angels are. They finished the year 17 games out, and even if you're generous to the point of ridiculousness, you can't pin anything that happened to the baseball team on the convention apart from annoyance.
If the Angels finish a game or two out of the money this year, though, fans have my permission to burn copies of "How to Dismantle an Atomic Bomb" in the streets.
That is, if they hadn't done so already on general principle.