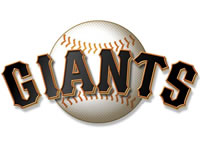 The San Francisco Giants may join the bidding for the NBA's Golden State Warriors. The California iteration of the franchise is 48 years-old, so it makes sense that the organization that employs Brian Sabean would be interested. Heck, if the deal goes through he's likely to play the entire basketball team at second base and have it bat leadoff.
The real reason for the potential investment: there's talk of an arena near AT&T Park which the Giants could develop and operate, luring the team across the Bay from Oakland to San Francisco. At the same time, the team would like to realize financial synergies via its partial ownership of the regional sports network that broadcasts Warriors games.
Which kind of puts the whole Oakland A's-San Jose thing in perspective.  The Giants have the money to literally buy other sports franchises, build arenas, become landlords and exploit the property via favorable broadcasting deals. Meanwhile, they're threatening legal action and demanding tribute from Major League Baseball due to the mere possibility that the Athletics — one of the rinky-dinkiest operations in professional sports — might set up shop 50 miles to the south of them.
Hard to have any sympathy for them, really.