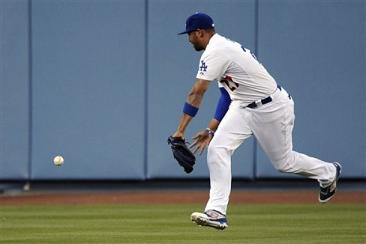 I basically retweeted Ned Colletti's comments back at Matt Kemp in the recaps this morning because I thought it'd be funny, but let's be clear about something: Kemp's misplay on that two-run triple was not the death blow in the Dodgers' loss to the Pirates. It was the fact that the Dodgers were blanked by the worst pitching staff in all of baseball.
Four hits. Four hits is all Big Blue could muster against a team that has been giving up runs by the bucketful. And don't tell me that it was just a fluke or that it was due to unusual weather conditions in L.A. yesterday (the wind chill factor was in the 40s). Why? Because the Dodgers have been shut out in three of their last five games. So what gives?
Garret Anderson, for one thing. The fact that he's on any major league roster is something of a surprise, but thanks to Manny Ramirez's injury he's been getting way more at bats than he has any business getting. In the two-hole last night he went 0 for 4. In part-time play over the past two weeks he's 1 for 25. James Loney has disappeared lately as well, going 0 for his last 18. Overall the Dodgers are six for 49 with runners in scoring position. All singles. There's just no boom in their boomsticks, and the Dodgers look simply listless.
Matt Kemp is likely to get his share of media jeers today, but make no mistake: he's not alone in deserving them.