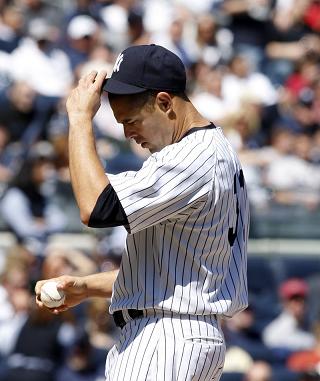 I'm extremely reluctant to give credence to the "Player X just can't handle New York" line of reasoning because as explanations go, it rarely if ever accounts for all of the variables.
Javy Vazquez is a good example, inasmuch as that meme doesn't account for the fact that he handled things just fine in New York until he got hurt back in 2004. Something else is almost always going on when a guy is playing poorly for the Yankees or any other team — maybe many something elses — and if we care at all about figuring out what it is, we're best to leave unverifiable, unquantifiable blanket explanations out of the equation until there is nothing else available.
But you know what? Sometimes you may not have any other explanation. Take pitcher Ed Whitson. As ESPN's Ian O'Connor writes, the fact of being in New York seems to have been his biggest problem during his brief tenure with the Yankees back in the mid-80s:
"It's like working in an office and your boss comes in and says, 'You
suck,' after you've tried your best," Whitson said. "Now multiply that
by 50,000 bosses, all of them telling you that you suck, and imagine
what that feels like.

"You feel like everybody's against
you, and sometimes you just want to quit. But you can't ever quit."
Some people are just wired to be more sensitive to criticism than others. I have no idea if Javy Vazquez is one of those people or if his struggles this year are a function of playing in New York. And given that there's still a lot of season to go and scores of reasons why any one pitcher can struggle, I'll probably be the last guy to hop on that train when assessing Vazquez. Let's talk about his decreased velocity first, ya know?
But "he just can't handle New York" is not a wholly fictitious concept. There are extremes to the place that major leaguers don't face in San Diego, where Whitson thrived, or the Columbus, Ohio suburbs where he now lives.
I suspect that the vast majority of ballplayers face more pressure simply making it up through the ranks to the bigs than they face from a hostile crowd or press corps, thereby rendering the pressures of New York relatively quaint, but it can't be said for absolutely everyone.