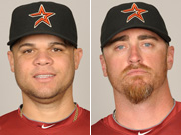 According to MLB.com beat reporter Brian McTaggart, left-hander Wandy Rodriguez has been scratched from his scheduled Friday start due to back spasms.
Brett Myers will take the bump as the Astros open a three-game series against the Braves.  Rodriguez is tentatively scheduled to make up for the lost outing on Saturday, but it's no sure thing that he will be able to make that start either.
Rodriguez has not looked like his normal, dominant self through four starts this season and the Astros currently stand 8-12, at the bottom of the National League Central standings.  Wandy, 31, has a 3.65 ERA, 1.34 WHIP and a 14/8 K/BB ratio in 24 2/3 innings.  He put up a 3.02 ERA and a 1.24 WHIP over 33 starts last season while also tallying 193 strikeouts in 205 2/3 innings.