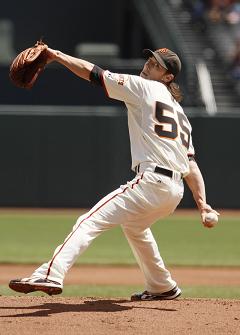 Aaron just told you about the blown save that cost Tim Lincecum and the Giants the game yesterday, but perhaps the most interesting thing that happened in the game occurred when Lincecum faced Cole Hamels in the top of the third.
With the count 1-2 to an obviously overmatched Hamels, Lincecum threw a fastball. It was in basically the same location as his first strike to Hamels, appearing to catch the upper right portion of the zone.  As soon as it was caught Hamels turned around to head back to the dugout and Lincecum started to walk off the mound, each of the pitchers agreeing that it was a strike.  Home plate umpire Dana DeMuth disagreed, however, calling it a ball.  Next pitch: Lincecum sends a fastball to the backstop which flew over his catcher's glove and not too far above the head of DeMuth.
I described Lincecum as laid back in the recaps this morning, but that's just lazy stereotyping of stoners on my part. I mean really, how laid back are you if you're the type that brushes back the home plate umpire if you don't get the call?