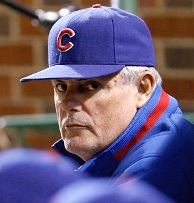 Lou Piniella wasn't in the mood to talk strategy with reporters after yesterday's game.  The video is here. For those who can't watch it for some reason, the reporter asked Lou whether he considered having Mike Fontenot bunt in the eighth inning when Marlon Byrd was on second base. Lou:
"Bunting what? With a left-hand hitter up? With a left-hand hitter
up, you want to bunt? What kind of baseball are you playing? Really, what kind of baseball
do you play?"
It's hard to hear the reporter's response, but he seems to say something about how getting Byrd over to third base would be a good idea. Lou again:
"How about getting 'em in? Or getting 'em over by
swinging? How 'bout that? Anything else?"
Another question was met with "I don't know. Talk to the players. Talk to the players.
I don't know. We should be able to get some people in. We're getting
some people on–we should be able to get 'em in."
I'm not a fan of managers pulling that "what, you think you know better than me?" shtick because they know damn well that it's the reporter's job to ask that kind of stuff. Unless the question is accompanied by an obvious attitude, it's designed to get the manager to talk about the game, not to give the guy the third degree. When truly bonehead decisions are made reporters almost always ask about it in a softer way, like "Lou, can you tell us a bit about the sixth inning . . ." as opposed to saying "Lou, why did you pinch hit the batboy for Ramirez in the sixth inning?"
All that said, I'm with Lou on the tactics of it all. Lefty or not, you've got your centerfielder in scoring position! Why waste a precious out with a sacrifice there?  Jeez, what kind of baseball is that guy playing?