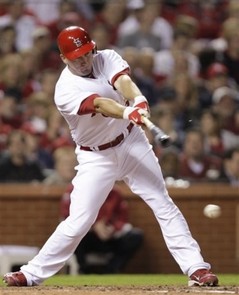 With a three-run homer off Jair Jurrjens and a three-run double off reliever Jesse Chavez, David Freese on Tuesday became the first Cardinals rookie since 1925 to drive in six runs in a game.
Freese finished 3-for-3 with a walk as St. Louis beat Atlanta 10-4 to complete a four-game sweep. The 26-year-old rookie entered the game with just two extra-base hits in 61 at-bats, but he managed to top anything Stan Musial or Albert Pujols did in their rookie seasons with his performance today.
Pujols had two five-RBI games during a 2001 season in which he won Rookie of the Year and finished fourth in the NL MVP balloting. They actually came in a four-day span in September. He also had a pair of two-homer games, but they both resulted in three-RBI days.