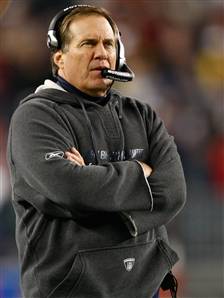 It's a little bit late since the Great Joe Maddon Hoodie Controversy was solved last week, but the Tampa Bay Rays manager nonetheless received some support in his quest for wardrobe freedom when he received a hoodie in the mail from none other than Patriots coach – and noted hoodie enthusiast — Bill Belichick.
The Patriots hoodie came embroidered with a "J.M." on the front, making it pretty fancy by hoodie standards. Maddon called the gift "very cool," and he should have just left it at that. Instead, he went on to tell the Associated Press:
"It's quite an accomplishment, quite an achievement to get something from a coach who's won the Super Bowl," Maddon said.
Yes, it is quite the accomplishment. Much like it was an accomplishment for me to receive a letter in the mail from the former sidekick on The Tonight Show. (I may already be a millionaire!)
Maddon says he won't wear the hoodie. After all he's a smart guy and knows MLB will frown on any of their managers wearing NFL gear. But he will display the sweatshirt in his office in a nice show of solidarity with his brother in casual wear.
One question though. Do you think they'll let Bob Huggins be a part of their club?
Are you on Twitter? You can follow Bob here, and get all your HBT updates here.