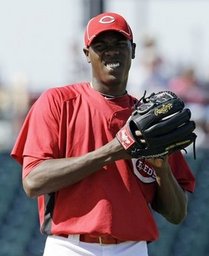 Aroldis Chapman started for Louisville last night and via this scouting report from FanHouse's Frankie Piliere, he still has some work to do before he's going to make it to the bigs.
Two issues, really. The first was his velocity. While it took Chapman a while to get up to full speed on a cold night, he eventually did hit the high 90s by the middle innings and even reached 100 twice.  But then he fell off pretty rapidly, leading Piliere to conclude that "it could be that Chapman was trying to pace himself, but didn't quite
know how."
But the bigger problem may have been his command. Piliere says that none of Chapman's secondary pitches were working for him last night, allowing hitters to sit dead-red. Which they did, and which Chapman threw over the heart of the plate too often, leading to two homers allowed.
The overall line wasn't bad — 6IP, 5H, 3ER, 2BB, 4Ks — but to at least one scout's eyes, it was not a ready for prime time performance.  You have to figure that the Reds — who have an incentive to keep Willis Chapman down on the farm a while anyway — probably saw the same things.
(Willis? Man, I have no idea. Long day I guess).