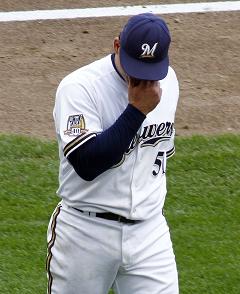 And now for the Senior Circuit.
Pirates 6, Brewers 5: Oh, Trevor. We covered this as it happened yesterday, but to reiterate: Hoffman was taken long by Ryan Doumit in the ninth for the second game in a row, and has now blown four of seven save chances this season. He blew
only four saves all of last year.  For what it's worth his counterpart Octavio Dotel was bet up too, but I don't think any of us lose any sleep over Octavio Dotel's struggles.
Mets 7, Dodgers 3: John Maine struck out nine Dodgers in six innings as the Mets wrap up a 9-1 homestand. When reached for comment Ned Colletti ripped rookie pitcher John Ely for his terrible debut, ripped Fernando Valenzuela for his weight and ripped Steve Garvey for using too much hairspray.
Cardinals 6, Braves 0: Just when you think the Braves can't sink any lower and get any more depressing they surprise you with something like this. Braves pitchers walked nine guys and Braves batters got only seven hits. They were as threatening as a doorstop in this game. Batting averages for the Braves starters yesterday: .197, .361, .241, .203, .200. .197, .200, .160.
Phillies 7, Giants 6: If I would have told you before this one that Tim Lincecum would strike out 11 and pitch into the ninth, I bet you wouldn't have guessed the outcome. Lincecum doesn't strike me as a violent guy, so it's not like he'd go hit his closer, Brian Wilson, over the head with a metal chair or anything after this one, but I'm sure there was a long "Duuuuude. Not cool, dude," exchanged.
Reds 6, Astros 4: The Reds scored three runs in the fourth inning when Hunter Pence lost a fly ball against the backdrop of the Houston sky on a day when the Minute Maid Park roof was open. Which just proves what I've been saying for years: playing baseball games in the open air is an abomination, and I will not rest until all teams play their home games in domes.
Diamondbacks 12, Rockies 11: Shades of pre-humidor Coors Field. Arizona led 6-0, then trailed 11-6 in this one, and that was all before the fifth inning. In the 10th Kelly Johnson homered off Franklin Morales to seal the win. A.J. Hinch was ejected in the ninth when the Dbacks loaded the bases but failed to score. He was run when Mark Reynolds was called out on a force play at home. Hinch's take was that catcher Miguel Olivo's foot came off the bag, and he held his hands wide apart to show the ump and the entire crowd just how badly the ump missed the call. I like those kinds of theatrics, but umpires don't for some reason.
Nationals 3, Cubs 2: If anyone else had Matt Capps getting to 10 saves before the end of April in the office pool, please come to Kathy's cubical and collect your winnings. Oh, and check out this sick, sick catch from Marlon Byrd. Screw skill. I'll take luck any day.
Padres 6, Marlins 4: Down four early, the Padres came back with a five-spot in the fifth and an insurance run in the eighth. The big blow was a three-run double from noted RBI-man David Eckstein. The scrappy Adrian Gonzalez singled home the go-ahead run.