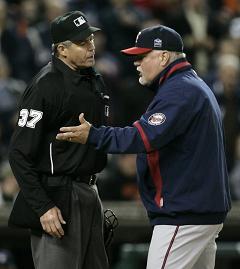 Because I'm running late with these, let's break them up into two installments. Here's the AL edition. The NL edition will follow later this morning.  Thanks for bearing with me.
Tigers
11, Twins 6: Interesting play in the sixth, when Johnny Damon hit a
deep drive to center. Denard Span caught it after a very long run, but
dropped it after taking a couple of steps. The umps
ruled that Span hadn't held the ball long enough for an out, and it
ended up being scored a two-base error, after which the floodgates
opened. Gardenhire got ejected arguing the call, but the
replay seems to back him up. Looks like he simply dropped it tryin
to take it out of his glove for the throw.
Rays 10, Athletics 3: James Shields was dealing — fanning 12 — and Evan Longoria and Carlos Pena each went long, giving the Rays their 13th win in 15 games.  Bad day for Dallas Braden, who said after the game: "Someone apparently didn't tell the Rays that [batting practice] was
over when they took the cage off the field." Braden's pretty good at telling opposing players to knock it off. You'd think he would have said something.
Red Sox 2, Blue Jays 0: Jon Lester allowed only one hit and struck out 11 in seven innings as the Sox, winners of seven of nine and Jays, losers of nine of 12, each begin to return to expected form after some early season tomfoolery.
Angels 4, Indians 3: I can't count how many times I've been in a ballpark and overheard some half-drunk, uninformed guy say "dude should totally lay a bunt down here. They'd never expect it" when it's clearly not a bunting situation. I think there was even a law requiring that in Cincinnati when Adam Dunn was still around. Grinds my gears every time I hear it, because it evinces a profound ignorance of the game and winning strategy.  In other news, Howie Kendrick laid down a bunt with two out in the ninth inning "driving" in Torii Hunter to win the game. I'd give credit to Mike Scioscia for creative thinking, but he had been ejected seven innings earlier.
Rangers 6, White Sox 5: Jake Peavy walked five and gave up six runs on six hits. Guess he didn't have it figured out after all.
Mariners 6, Royals 5: Gil Meche gave up five runs on eight hits and three walks in six innings. He's now 0-2 in four starts with a 10.13 ERA. Opponents are batting .338
against him. And he's only owed another $25 million or so.
Yankees 8, Orioles 3: The O's got 11 hits of CC Sabathia, who was pitching with a big lead for much of the game and apparently just daring the O's to hit it, but they couldn't do much with all of those baserunners.