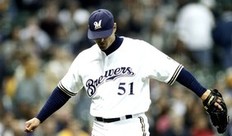 Brewers manager Ken Macha suggested for the first time Wednesday that Trevor Hoffman might not be the best fit for the club's ninth-inning role.  The suggestion, via MLB.com's Adam McCalvy, came moments after the 42-year-old right-hander blew his fourth save of the regular season, leading to a 14-inning 6-5 loss to the Pirates.
"That's two days
in a row for him," said Macha. "Tomorrow, if we have a chance to win it, perhaps it
will be somebody else at the end."
If Hoffman does indeed lose the job, Carlos Villanueva or LaTroy Hawkins would likely fill in.  Villanueva, 26, is a converted starter with a 0.00 ERA and 0.75 WHIP through 12 innings this season.  Hawkins is a 15-year veteran with 87 career saves.