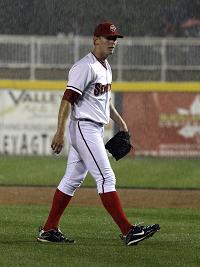 When grade school kids are faced with what Stephen Strasburg is currently faced with — the total lack of a challenge — they are double promoted. Or at least put in the gifted class or something, because if they get bored they start setting fires and stuff.
Strasburg pitched five no-hit innings yesterday with no walks and six strikeouts. He even got an RBI single. According to the game story the radar gun gave reading of 94, but those in the know say that it runs about 4 m.p.h. slow.
Strasburg's ERA is 0.52. He has allowed only seven
hits in 17 innings and has struck out 23 dudes while walking just three.  I think he's ready.
Of course he still won't be called up for a few weeks yet, because as everyone knows — and despite whatever things Strasburg and the Nats say about him still needing to work on things — this is clearly a service time thing.  We've talked about this before with respect to various prospects, but for everything you ever wanted to know about Super Two status, service time politics and how it all relates to Strasburg, the Post had a pretty comprehensive piece on it back in March.