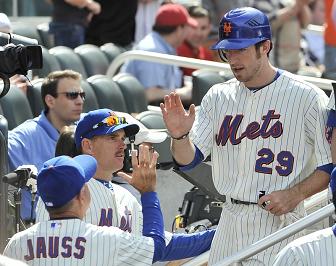 There aren't many people who have ragged on the Mets more than I have over the past few years. But if you're going to be negative, you have to be fair, and fairness demands that the Mets be given their due. Correction: fairness demands that the first place New York Mets be given their due. Because there they sit, at least for now, alone atop the National League East. How did they get there?  A bunch of reasons really.
The starting pitching has been excellent, with Mike Pelfrey and Jon Neise stepping up behind Johan Santana admirably. Doubters may cite the less-than-impressive offenses of the Cubs, Braves and Dodgers on which the Mets have recently feasted, but are they bad because they're bad, or are they bad because they faced the Mets' pitching?
Ike Davis has been a godsend. No, I don't expect him to post a .980 OPS this season, but first base has suddenly gone from a sucking black vortex to not a problem.
Little stuff:  The defense is better than last year. The rains have come at the right time. The bullpen has been getting them out of jams that, statistically speaking, a team shouldn't always get out of. They've also had the good fortune of playing 15 of their 21 games at home thus far. You can call all that luck if you want to, but last I checked wins due to good luck still count in the standings.
It's still early so it's not worth either (a) making sweeping pronouncements or (b) analyzing it to death, but the fact is that everything is coming up blue and orange lately, and it should have Mets fans feeling pretty happy right now.
And it should have them showing up in greater numbers.  Early season attendance has been pretty pitiful so far this year. I'll grant yesterday's day game was a lost cause because of the previous night's rainout, but after averaging over 38,000 per game last year, the Mets have only cracked that total twice in 15 home games this season, one of which was Opening Day.  In that time the team has set the record for the lowest attendance in Citi Field's brief history — 25,684 a week ago against the Cubs — and have had more games in the 20,000s than the 30,000s.
Time to step up Mets fans. Your team is winning. If an avowed hater like me can give them their props, the least you fans can do is to start showing up.