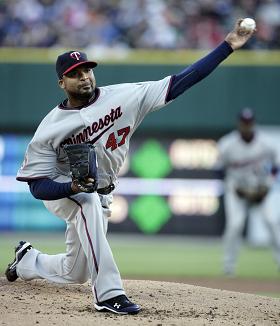 Twins 2, Tigers 0: Francisco Liriano dominates again. Jon Rauch gets his seventh save in eight chances. Jim Thome, Jason Kubel and Delmon Young all get in the game and provide some production. As long as it doesn't snow during the Twins' next homestand, I think we'll be able to say that all of the uncertainties facing the Twins heading into this season have been sorted out.
Pirates 7, Brewers 3: The only sad thing for Pirates fans here is that the Buccos didn't channel the ol' ball coach and hang half a hundred on 'em in retaliation for the last week's worth of butt-kicking. The sad thing for the Brewers — and the rest of us who appreciate greatness — is that Trevor Hoffman looks like he has a giant fork sticking out of his back. The two homers allowed was bad enough, but the scary part is that he only threw two changeups in the entire ninth inning. That's like Batman hanging from a rope ladder over the ocean without his shark repellent.
Cardinals 5, Braves 4: Nothing is going right for Atlanta. The scariest
part: after the game Bobby Cox got on
Heyward's case for taking too many pitches. Because what you really
want is a young kid with plate patience to be scared into swinging at
everything by his living legend manager who won't be around next year
when his approach is all messed up. Or maybe I'm just overreacting
because the Braves will never win another baseball game ever again in my natural lifetime.
Mariners 3, Royals 2: Zack Greinke pitches seven shutout innings and hands it over to the pen, which promptly blows it. I just did a little legal research on the subject, and I'll be damned if it isn't now Missouri law that Greinke can kill relief pitchers without facing any legal liability whatsoever.
Mets 4, Dodgers 0, Mets 10, Dodgers 5: Game one features six innings of shutout ball from Johan Santana, three more from the pen and the first homer of the season for Jason Bay. Game two featured the Mets' bullpen and bats saving Oliver Perez from himself and extending the team's win streak to six. The late Phillies game (see below) put the Mets in first place. That's right kids: the New York Mets are in first place in the National League East.
Rockies
12, Diamondbacks 1: Ubaldo Jiminez's and Edwin Jackson's
ERA-trajectories could be used to demonstrate Newton's Law of Balanced
Force, with all of us remaining perfectly stable as they simultaneously
race towards the infinitely small and infinitely large.
Reds
6, Astros 2: Aaron Harang — previously dead — is reanimated. He
and Dusty Baker go on a theater tour singing "Putting on the Ritz,"
complete with top hats and tails, until it ends in disaster when a
defective stage light frightens Harang into a rampage.  Why no, I didn't
watch any of this game. Why do you ask?
Nationals
3, Cubs 1: After giving up one run in seven innings Livan
Hernandez's ERA rises to 0.87. Given that the statute of
limitations has pretty much run over that whole 1997 NLCS fiasco, I'm
officially rooting for Hernandez to beat out Tim Lincecum and Roy
Halladay for the Cy Young Award because such a thing would be glorious
in its randomness and because my personal motto is "viva chaos."
Red
Sox 2, Blue Jays 1: The bullpens get a rest as Clay Buchholz and
Shaun Marcum each work into the eighth inning. A bases loaded walk to
Mike Lowell — who was pinch-hitting for Big Papi — provided the game
winning RBI. Except we don't keep track of those anymore.
Orioles
5, Yankees 4: And the Bombers have suddenly lost four of five. 0-5s
for Jeter, Gardner and A-Rod. Granderson is now 0 for his last 17. New
York threatened in the ninth, scoring a couple and loading the bases up
for A-Rod, but he grounded to second. I
blame Obama. Or Dave Robertson. Either way, really.
Rangers
4, White Sox 2: Matt Treanor alone put the Rangers out in front 3-0
with a homer and a two-run double, and that proved to be enough. I'll
admit, I was pretty dubious about the C.J. Wilson-as-starter thing when
they announced it, but it's working out just fine (6 IP, 5 H, 2 ER).
Rays 8, Athletics 6: An appearance from the bad Ben Sheets (4 IP, 9 H, 8 ER) and a three-run homer from Pat Burrell lead the Rays to their 12th win in 14 games. Still, no one showed up for this one, putting lie to the notion that people will start showing up when the Rays win.
Padres 4, Marlins 1: Both of these teams play in near-tropical climes, so this is probably as good a place as any to register my dissatisfaction at the fact that "Lost" was a rerun last night. Anyway, Jon Garland struck out ten Feesh in six innings and all of the Padres runs came in on singles, which is something I find highly annoying when it happens against my team.
Indians 9, Angels 2: I'm not sure I have room in the reality centers of my brain to accommodate Austin Kearns being good, but he's been on a tear lately. Last night: 3-6, 2 2B, HR, 5 RBI.
Giants 6, Phillies 2: Homers from Matt Downs and Aubrey Huff, good pitching from Todd Wellemeyer and some nice defense all contribute to yet another Giants win. Oh, and in the second inning Ryan Howard dogged it to second base on what he thought would be a double and was thrown out. Jayson Stark says it's OK, though, because Babe Ruth did that all the time.