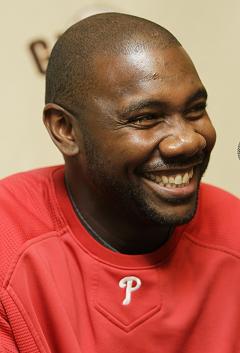 I said plenty yesterday, but so did a lot of other people. Here's some of it, starting with the sort of hyperbole that may inspire ESPN to place Jayson Stark under psychiatric evaluation for the next 72 hours, and ending with Matt Swartz at Baseball Prospectus, with what is probably the most middle-ground take I've seen.
Jayson Stark: It's quite a tale, all right, for a player who looked as if he was
going to be blocked by Thome from ever playing in Philadelphia, who
didn't get a chance to play every day until age 25, and who only got
that shot because Thome hurt his elbow in July 2005.But once
Howard got his chance, he decided to turn himself into his generation's
Babe Ruth at the plate.
Rob Neyer: The Phillies have done a lot of things right over the last few years.
But this is a big bowl of wrong.
Kevin Kaduk: Even if you're not fully convinced it's a deadlock that Howard will turn into David Ortiz  over the next three years . . . you have to wonder why GM Ruben Amaro felt the need to do this deal almost two years earlier than necessary.
The 700 Level: Will Phillies fans in 2016 bemoan the $25 million Ryan Howard is
getting paid that year? Perhaps. But most Phillies fans can barely make
plans for next weekend let alone five years from now. That's why Ruben
Amaro Jr. gets paid to make important, long lasting decisions like this
one. It's amazing how every Joe on Twitter turns into a soothsayer on
days
like today. Only time will tell if this one pays off down the road. Until
then, enjoy watching Ryan Howard play first base for your Phillies.
Phil Sheridan: Everybody wins. Come to think of it, that pretty much sums up Ryan
Howard's time here.
Matthew Carruth: When the news first broke and the details started to emerge, I was
tempted to fill this entire article with just me laughing. My co-writers
convinced me that while an appropriate response, that was not quite
informative enough so I have relented and will actually map out the
value of Ryan Howard's new extension. I'm laughing pretty hard, though, in case
you wanted to picture it.
David Murphy: I'm not surprised that they decided to sign Howard now, but I would've
thought that any deal would come only as a result of some obvious
concessions on Howard's part.
Jonah Keri: 5 years, $125 million for Ryan Howard!!! A
financial quagmire that'll make the Iraq War look like a slap fight [note: pro-Howard comments don't have the market cornered on hyperbole].
Balls, Sticks and Stuff: Once you get past the initial feel-good wave and you really start to
examine the contract, things get a bit scary. Think about it, when Ryan
Howard is in his mid/late-30's, he'll be getting paid like one of the
best players in baseball when the chances of him actually being that
type of player are slim.
Matt Swartz: If you listened to the roar of the sabermetricians, you would think the
Phillies had thrown nine figures at Juan Castro . . . On the other hand, if you listened to the roar of the old-school
writers, you would think the Phillies had stolen an MVP off the market
at a discount . . . The reality is that Howard falls somewhere between these two extremes.
The contract is far from spectacular, but it is unlikely to be an
albatross.
A fun project for which I'll try to make the time later today:  tracking the reactions of those who support this deal against those same people's reactions to the Alex Rodriguez contract. I have this feeling that it would lead to a pretty interesting lesson about how much value there is to being a likable player when it comes to media treatment of your mega-deal.